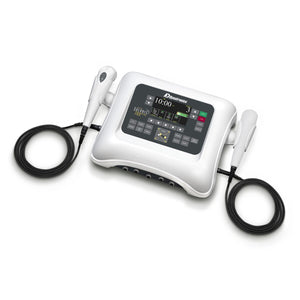 Dynatron Solaris Plus 709 - 5 Channel Stim/Ultrasound Unit with Soundhead
$5,145.00

$5,145.00
---
Request a custom quote to receive the best pricing for specialty products and bulk quantity orders. Custom rehab equipment solutions created just for you!
---
The Dynatron Solaris Plus 709 is both powerful and versatile. All channels allow:

fully-independent treatment setups, offering 6 stim waveforms.
Ultrasound and exclusive ComboPlus.
the ability to add TriWave Light and ThermoStim options.
The 709 includes the standard advantages of Dynatronics engineering, such as:
customizable treatments.
electrode conductance meters.
and the popular Target touchpad, to move the center of interference directly to the site of the patient′s pain.
the option of battery operation, making the device truly portable.
a 2-year warranty and backed by the best customer service in the industry.

TriWave Light Probes/Pads, ThermoStim Probe, and Solaris Cart sold separately.

Manufacturer Model: #D719T

Solaris Plus 709 (D719T) Features
Power and Flexibility
All channels allow fully-independent treatment setups, offering 6 stim waveforms:
Interferential
Premodulated
High Volt
Biphasic
Russian
Microcurrent
and Fixed Frequency IFC/Premod.
The 709 also offers 3 Frequency Ultrasound and ComboPlus and has the power to deliver up to 5 channels of stim plus Ultrasound, and either TriWave Light or ThermoStim - all at the same time. All of the Solaris Plus accessories are compatible with all Solaris Plus devices.
Impressively Simple
Even with nearly unlimited flexibility, setting up a treatment has never been easier. Some treatments can be set up in as few as two key presses. Treatment parameters are highly visible, easy to read, and changed at the touch of a fingertip.

Ultrasound
The Dynatron Solaris Plus Devices are the only Ultrasound devices in the industry offering 1, 2, and 3 MHz frequencies for the greatest flexibility in depth of treatment. Soundheads are available in 2 cm (WSH02), 5 cm (WSH05), and 10 cm (WSH10) sizes. 

Exclusive Target & Target Sweep
Dynatronics' unique TARGET feature focuses an interferential treatment precisely where it is needed, providing a more effective interferential treatment. Simply glide your finger across the TARGET touch pad to move the center of interference to the site of the patient′s pain. The Sweep option literally moves the point of interference in a somewhat spiral pattern, bathing a larger area within the electrode placement with the Interferential current while still retaining the full Interferential beat.

Optional Features (Sold Separately)
Tri-Wave Light & Pads
Deliver any combination of 3-wavelengths of light (red, infrared, and blue) using the Tri-Wave Light Probe (DCP3) or 2 robust 5 in x 7 in Tri-Wave Light Pads (DLP3). Dual Light Pads allow for greater coverage of a joint, treatment of 2 separate areas simultaneously, and the ability to treat large areas of the body when placed side-by-side. 
 
ThermoStim Probe
The ThermoStim Probe (DTSP1) is a soft-tissue mobilization tool that also allows the practitioner to provide cold, heat, and electrical stimulation - all at the same time. The multi-surface head with edges and corners optimizes ThermoStim transfer and tissue mobilization. With the ability to deliver three separate treatments simultaneously, the ThermoStim Probe saves significant treatment time.
 
Solaris Plus Cart
The optional Solaris Plus Cart (D71CART) has 3 large drawers, big enough to store cords, pads, probes, electrodes, and a myriad of treatment supplies. Constructed with a low center of gravity to prevent tipping (each caster has a weight tolerance of 125 lbs.), the Solaris Plus Cart is sturdy and aesthetically pleasing, matching the color scheme and design of the Solaris Plus unit.
ABOUT DYNATRONICS
Dynatronics is a medical device company committed to providing high-quality restorative products designed to accelerate one to their optimal health. As the company continues to be a brand leader in the physical therapy and rehabilitation industry, it has acquired reputable brands such as Hausmann Industries and Bird & Cronin.
Dynatronics seeks cost-effective therapies without reducing the quality of care. These reliable tools allow the health/fitness professional to focus on outcomes and reduce hospital readmissions.
WHO'S TOTAL REHAB SOLUTIONS?
At Total Rehab Solutions (TRS), we offer the most-effective medical devices and supplies on the market. With over 30 years of experience and excellent customer support, you can feel good knowing you'll receive the best products within your budget. Your experience with TRS should be one worth sharing with your friends and colleagues.
GET STARTED WITH A CUSTOM QUOTE TODAY
Now that you've heard how Dynatronics and TRS can help you, let's talk about a custom solution for your facility. Your time is important, and we respect that. So, we've provided you with a couple of options for creating a custom quote. 
Browse our Dynatronics collection and easily add your products to your custom quote. Once your quote is complete, submit it to our team for review. We will send you a quote that includes the best available pricing and shipping options. Please allow 2-3 business days for our team to reply.
Don't see a product you're looking for, or have a question? Contact us today!
---
Other Recommended Products
---