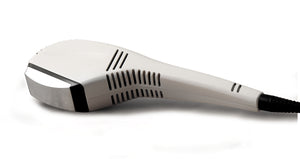 Dynatronics Thermostim Probe #DTSP1
$2,525.00

$2,525.00
---
Request a custom quote to receive the best pricing for specialty products and bulk quantity orders. Custom rehab equipment solutions created just for you!
---

Dynatronics Solaris Plus ThermoStim Probe features
The Dyatronics Solaris Plus ThermoStim Probe is one of the most popular treatment accessories. The metal probe head has an auto-warm feature that begins warming the head as soon as you turn on your Solaris Plus Series unit. Warming only takes 1 minute, and the probe is ready for use on your patient. In practice, most clinicians will turn the unit on at the start of the day, and leave it in standby mode with the probe attached. Then when they are ready to treat a paitient, the head is already warmed to provide a pleasant initial contact.
No special gels or skin prep solutions are needed to administer treatment. Simply apply gentle contact and depress the button on the back of the unit.
Temperature Range: 39° – 112° F
Reaches target temperature in less than 60 sec.
Multi-surface head with edges and corners optimizes ThermoStim transfer and tissue mobilization.
The Dynatronics Solaris Plus Thermostim Probe is intended for use with the Solaris Plus Series control heads.
Click links below to view these units:
Dynatronics Solaris 705Plus 3-Channel Stim
Dynatronics Solaris 706Plus 5-Channel Stim
Dynatronics Solaris 708Plus 3-Channel Combo Stim & Ultrasound
Dynatronics Solaris 709Plus 5-Channel Combo Stim & Ultrasound
Free Shipping in USA (standard ground)
---
Other Recommended Products
---