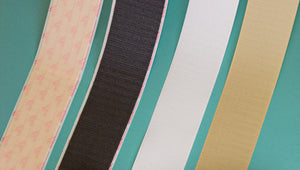 Velcro Sticky Back Hook Self-Adhesive, White, 2 in. x 25 yd.
$69.95

$69.95
---
Request a custom quote to receive the best pricing for specialty products and bulk quantity orders. Custom rehab equipment solutions created just for you!
---
Genuine VELCRO® brand hook and loop at reasonable prices. VELCRO® Brand Extra STICKY BACK® Hook Excellent for use on hard-to-stick-to surfaces. This is the same nylon hook as described below but with a fast-acting, strong adhesive. Sets up the moment it touches the surface and cannot be removed after a few minutes. Use when regular sticky back hook does not hold. Latex free. VELCRO® Brand STICKY BACK® Hook Made of nylon hook material with self-adhesive backing. Sticky Back® adhesive backing is not autoclavable. Readily adheres to dry, clean surfaces. Increase bonding strength by softening the adhesive with a heat gun. Not recommended for use with flexible vinyl. Can be removed easily without sticky residue. Latex free. VELCRO® brand Hook Made of autoclavable nylon for durability and ease of use. Loop is available in white, beige, black and in a selection of bright colors. Hook is available in white, black and beige. Latex free.
---
Other Recommended Products
---