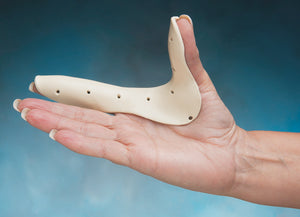 Vanilla Thermoplastic Splinting Material 3/32 in. x 18 in. x 24 in.
$47.25

$47.25
---
Request a custom quote to receive the best pricing for specialty products and bulk quantity orders. Custom rehab equipment solutions created just for you!
---
Moderate handling and reheating produce a finished, sculptured appearance. Resistance to Stretch Moderate resistance to stretch. Tolerates minimum to moderate handling during splint molding. Handle on a horizontal plane to form splint in a gravity-assisted position or vertical plane as well. Smooth motions yield superior, sculpted results. Drape Moderate drape requires only light to moderate pressure to form contour fit. Memory Minimum to moderate memory. Splints can be reheated and edges will remain smooth and closed. Splints will hold their shape when mildly heated for easy fitting adjustments. Rigidity Moderate degree of rigidity. A circumferential splint made of Vanilla™ is flexible enough for easy donning and doffing, yet strong enough for immobilization. Bonding The traditional coating allows splinting over bandages without adherence. A pressed, wet bond will hold firmly but can be pulled apart when cooled. Dry heating two surfaces will form a strong bond. For a permanent bond, use solvent or scrape off coating, dry heat and press together. Surface Finish Moderate resistance to fingerprints and resists showing stains. To remove marks, lightly heat the surface and rub. Smooth, self-sealing cut edges remain sealed even after reheating. Applications 1/8" Vanilla™ can be used for almost any splinting application. Use for adult and pediatric positioning, dynamic and static splinting, and for post-burn and post-surgical care. 3/32" Vanilla™ is thin and lightweight, yet strong, and can be used for finger and hand splints. Ideal for arthritis splints, post-operative splints and for children who are able to cooperate. Working time (1/8") Allows three to five minutes to form and harden after softening in 160° F (71° C) water. Latex Free Sheets sold individually or in a case of 4.
---
Other Recommended Products
---