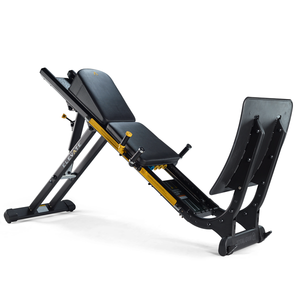 Total Gym ELEVATE Jump
$3,695.00

$3,695.00
---
Request a custom quote to receive the best pricing for specialty products and bulk quantity orders. Custom rehab equipment solutions created just for you!
---
CURRENTLY UNAVAILABLE NO RELEASE DATE SET
The ELEVATE Jump™ builds explosive power and develops lower body muscle mass with two primary movements, the squat and the squat jump. Uniquely designed to facilitate plyometric jumping exercises leveraging both linear bodyweight resistance and variable band resistance, this jump exercise machine produces both concentric and eccentric loading of the muscles – allowing users to accelerate and decelerate quickly during a squat jump in a safe, controlled manner. 

Able to accommodate all levels of fitness, the ELEVATE Jump™ supports the spine during traditional squat exercises so that users can comfortably control the descending and ascending phases of a squat or jump, while providing an opportunity for advanced variations including, single-leg squats and staggered stance squats.
Contact TRS for Quote
---
Other Recommended Products
---