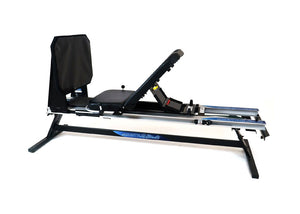 Shuttle 3000 Ultimate Plus
$7,699.95

$7,699.95
---
Request a custom quote to receive the best pricing for specialty products and bulk quantity orders. Custom rehab equipment solutions created just for you!
---
Supine Leg Press with 16 Elasticords that provide up to 500 lbs of Progressive Resistance with a 4 position Adjustable Backrest, a fully Adjustable Kick Plate, Foot Supports, Wobble Board, full range of flexion and extension, and PNF Total Body Tower System.
It's the Ultimate in Versatility, Comfort, and Value, from Geriatric & Bariatric Care to Athletic Performance.
Rehab - Improved Controls for Therapy, Greater Comfort & Adaptability, Accommodates Bariatric Loads.
Sports Training - High-Load Resistance for Leg Press and Explosive Plyometric Training Horizontal Leg Press Positioning.
Specifications:
Foot Print: 36" W x 96" L
Resistance: 5-500 lbs
MADE IN THE USA
NEW Ball Bearing Pulley System
Incredibly Smooth Function
Facilitates Pilates Movements
Provides an Auxiliary Pulley System for Standing Activities
NEW Kickplate Locking Mechanism
Secures Kickplate for High Load Leg Press and Plyometric Activities
Increases Stroke Length for Pilates Movements
NEW Rotating Hand Grips
Improves Ergonomics for Hands and Shoulders
NEW ROM Control
Improves Controls for Flexion/Extension
Locks Carriage Down for Easy Loading
NEW 4 Position Adjustable Backrest
Wider & Structurally Stronger to Support Bariatric Patients
Softer Padding for Comfort
Fully Adjustable Supine 15°, 30°, and 45° Options
NEW Greater Resistance
Higher Load Capability for Use as Leg Press and Plyometric Activities
NEW Wider Base
Supports Bariatric Patients
Improves Lateral Loading
Increases Sense of Security
---
Other Recommended Products
---