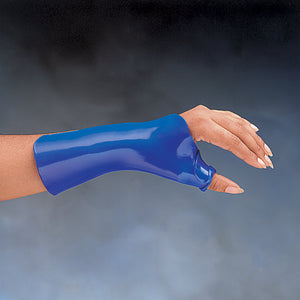 Prism, Micro-Perforated Thermoplastic Splinting Material Royal-Blue, 1/12 in. x 18 in. x 24 in.
$67.95

$67.95
---
Request a custom quote to receive the best pricing for specialty products and bulk quantity orders. Custom rehab equipment solutions created just for you!
---
Make Bright, colorful splints that provide comfortable support. Resistance to Stretch Moderate resistance to stretch for easy circumferential splinting. Gently pull and wrap the material around the affected part. Drape Moderate drape for excellent fit and conformability. Memory 100% memory for easy remolding. Rigidity Minimum rigidity. Splints flex slightly with pressure for more comfortable wear. Circumferential splints will increase rigidity. Splints made from 1/8" Prism™ are rigid enough to handle the force of dynamic components. Splints made from 1/12" perforated Prism™ form strong but flexible splints for a variety of lightweight applications. Bonding Traditional non-sticky coating allows the splinter to fabricate overlapping circumferential splints quickly. Splints can be molded over bandages easily without sticking. To form a permanent bond, scrape shiny coating off using scissors or use solvent and dry heat until the material is soft. Press together firmly. Surface Finish Resists fingerprints, even with aggressive handling. Color retains its vibrancy and shine. Applications 1/8" Prism™ can be used for hand and upper extremity splints, lower extremity splints and return-to-work splints. Great for serial splinting. 1/12" Prism™ is ideal when a lighter weight, less rigid material is desired. Use for pediatric, finger, thumb and circumferential splints. Prism™ turns translucent when ready to apply. Leaves sealed, smooth edges when cut warm. Working Time (1/8") Prism™ has a long working time becoming firm in approximately six minutes at 160°F (71°C). Prism™ Sample Kits The Prism™ Micro Perforated Kit NC12962 includes five 1/12" x 6" x 18" (2.0mm x 15cm x 45cm) perforated sheets - one of each color, excluding white. Latex Free Sheets sold individually or in a case of 4.
---
Other Recommended Products
---