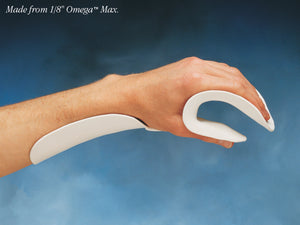 Omega Max Thermoplastic Splinting Material 1/8 in. x 18 in. x 24 in.
$38.95

$38.95
---
Request a custom quote to receive the best pricing for specialty products and bulk quantity orders. Custom rehab equipment solutions created just for you!
---
Conformability, moderate RTS, and 100% memory combine for a versatile splinting material. Resistance to Stretch Moderate resistance to stretch. Moderate to aggressive handling is tolerated. Drape Moderate to maximum drape to create a close conforming fit. Provides excellent reproduction of detail. Memory 100% memory, ideal for serial splinting. Always recovers its original cut shape and size when reheated. Rigidity Moderate to maximum rigidity. Bonding Unique powder coating gives Omega™ Max a slightly tacky surface that holds the material in place, without the material pulling or falling away. A wet bond will hold firmly but can be pulled apart when cool. Apply minimal solvent and dry heat to form a strong, permanent bond. Surface Finish Finished splints have a smooth, glossy surface. Fingerprints and other surface marks disappear as the material cools. Makes professional looking orthosis. When cut while warm, Omega™ Max forms smooth, sealed edges. Applications Use 1/8" Omega™ Max for hand or wrist splints back supports, anti-spasticity splints, lower extremity positioning splints, serial static splints and bases for dynamic splints. Use 3/32" Omega™ Max for lightweight hand or wrist splints. Because of its superior rigidity, 3/32" Omega™ Max can be used for dynamic splint bases. Pediatric splints made from the 3/32" thickness have excellent conformability and will hold against strong hypertonicity. Working Time (1/8") Allows approximately three minutes to form and harden after softening in 140° F (60° C) to 150° F (65° C) water. Fastest setup time, ideal for busy clinics and patients who benefit from less handling time. Latex Free Sheets sold individually, or in a case of 2 or 4.
---
Other Recommended Products
---