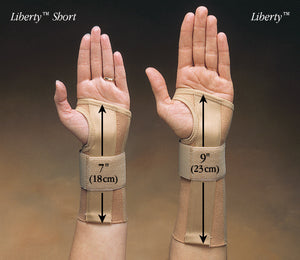 Liberty Elastic Wrist Brace Beige-LONG
$25.50

$25.50
---
Request a custom quote to receive the best pricing for specialty products and bulk quantity orders. Custom rehab equipment solutions created just for you!
---
Allows fingers and thumb to move freely while providing excellent wrist support.
Made of woven cotton and coated rubber.
Ideal for arthritis, inflammation, sprains and carpal tunnel syndrome.
Open-weave stretch fabric allows for air circulation and helps prevent skin maceration.
The 2" (5.1cm) wide wrap-around wrist strap on adult splints adds support.
Unique cutout in the aluminum stay allows for unimpeded range of motion of the thumb. Anatomically designed stay can be modified easily for a custom fit.
Short style measures approximately 7" (18cm) in length and covers approximately one-third of the forearm. 
Long style measures approximately 9" (23cm) in length and covers approximately two-thirds of the forearm.
To size, measure wrist circumference.
Measurement:
Large      7-1/4" to 8" (18 to 20cm)Left
X-Large  8" to 8-3/4" (20 to 22cm)
---
Other Recommended Products
---