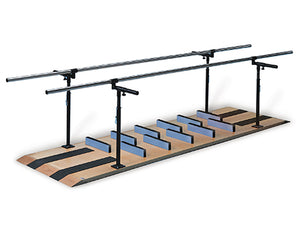 Hausmann 10' Adj Height & Width Platform Parallel Bars w/ Mobility Platform
$2,795.00

$2,795.00
---
Request a custom quote to receive the best pricing for specialty products and bulk quantity orders. Custom rehab equipment solutions created just for you!
---
The Hausmann 1393 Ambulation and Mobility Platform features a placement ladder and balance beam, making it ideal for hospitals, therapy centers and rehab clinics. The placement ladder consists of 11 variably placed ladder steps. The balance beam is 6'5" L x 6" W x 3" H with non-slip treads. Proudly made in the U.S.A., the Hausmann 1393 Mobility Platform has dowel pins that fit into pre-drilled holes on the platform surface. The 1393 Parallel Bars are designed with a platform that is 38 inches wide and offers a weight capacity of 400 pounds.
The Hausmann 1393 Parallel Bars are both height and width adjustable. The width adjusts from 15 inches to 28 inches and height adjusts from 29 inches to 42 inches. The Platform Mounted Parallel Bars have satin-finish hardwood platforms with tapered hardwood ends for easy wheelchair access. Parallel Bars by Hausmann are designed with two anti-slip treads on each end and 1.5 inch diameter, one-piece, stainless steel handrails. The heavy gauge black powder coated steel uprights and fittings each telescope up in 1.5 inch increments and lock into 10 height positions with fail-safe ball-tip locking pin.
Weight Capacity: 400 pounds
Dimensions: 10' x 15"-28" x 29"-42" (LxWxH)
U.S. Patent No. 5,924,960
Height and width adjustable
Placement Ladder with 11 variably placed ladder steps
Balance Beam with non-slip treads
Weight capacity of 400 lbs
Ergonomic control knobs on each upright adjusts width from 15 in to 28
Satin-finished hardwood platform
Tapered hardwood ends
Two anti-slip treads on each end
One-piece stainless steel handrails
Heavy gauge black powder coated steel uprights and fittings
Platform width is 38"
30" Clearance between uprights
Each upright telescopes up in 1.5" increments
Uprights lock into 10 height positions with fail-safe ball-tip locking pin
Dowel pins that fit into pre-drilled holes on platform surface
Freight Additional - Quote Required
---
Other Recommended Products
---