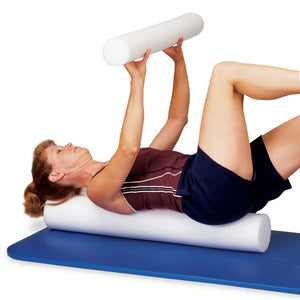 Half Foam Roll, 3" height x 12"
$5.99

$5.99
---
Request a custom quote to receive the best pricing for specialty products and bulk quantity orders. Custom rehab equipment solutions created just for you!
---
Lightweight, portable bolsters are ideal for home programs. Great for improving dynamic stabilization, joint mobilization, weight bearing for upper and lower extremities, relaxation, righting and equilibrium reactions. Can be used for sitting, standing, supine, side-lying, prone and all-fours exercises. Full Round rolls available in 3", 4" or 6" (7, 10 or 15cm) diameters. Half-Round rolls measures 6" on the flat side x 3" tall (15 x 7.6cm). Available in 12", 36" lengths.
---
Other Recommended Products
---