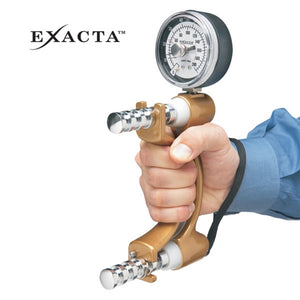 Exacta Hand Dynamometer
$217.95

$217.95

Save $112
---
Request a custom quote to receive the best pricing for specialty products and bulk quantity orders. Custom rehab equipment solutions created just for you!
---
Provides accurate, repeatable grip-force readings.
Designed for reliable grip-force evaluations, this hydraulic dynamometer gives accurate readings without the client feeling the handle move.
Ideal for routine screening and for evaluating hand trauma and disease.
The adjustable handle can be placed in five grip positions, from 1-3/8" to 3-3/8" (3.5 to 8.6cm), in 1/2" (13mm) increments to accommodate any hand size.
Peak force needle remains at the maximum reading until it is manually reset.
Records in pounds and kilograms up to 200 lbs. (91kg).

Rate of accuracy: ±4 lbs.

Includes a protective carrying case.
One-year warranty.

---
Other Recommended Products
---