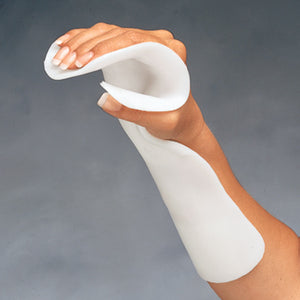 Encore Thermoplastic Splinting Material White, 1/16 in. x 18 in. x 24 in.
$54.63

$54.63
---
Request a custom quote to receive the best pricing for specialty products and bulk quantity orders. Custom rehab equipment solutions created just for you!
---
Allows repeated remolding for perfect results. Turns translucent when warm. Resistance to Stretch Minimum to moderate resistance to stretch. Can be used for single-surface splinting or stretched circumferentially. Drape Maximum drape. Excellent conformability and reproduction of detail. Turns translucent when thoroughly heated and retains its clarity for the first few minutes of molding, allowing visibility of landmarks and bony prominences. Memory 100% memory. Will regain its original cut shape and size every time it is reheated. Encore™ can be used to make a variety of orthoses, providing firm to lightweight support from the hand to the foot. Rigidity Moderately rigid splints. If a more flexible splint is required, simply stretch the material to achieve the desired rigidity and thickness. Bonding Traditional coating has a tacky surface that helps hold the splint in place during molding. Pieces pinched together can be pulled apart once cooled. Use only dry heat and firm pressure to bond firmly; use solvent to form a permanent bond. Surface Finish Resists fingerprinting for a smooth, shiny surface. To remove marks and bring out shine, dip in warm water or lightly heat the surface with dry heat. Applications Use 1/8" Encore™ for thumb, finger and hand splints, bases for dynamic splints and burn splints. It is also ideal for lower extremity splints, circumferential leg splints, foot drop splints and foot orthoses. Use 3/32" Encore™ for hand and wrist splints, arthritis splints, circumferential splints and burn splints. It is also ideal as a base for smaller dynamic outriggers. Lightweight 1/16" Encore™ is ideal for pediatric and finger positioning splints. Working Time (1/8") Allows three to five minutes to form and harden after softening in 160° F (71° C) water. Latex Free Sheets sold individually or in a case of 4.
---
Other Recommended Products
---