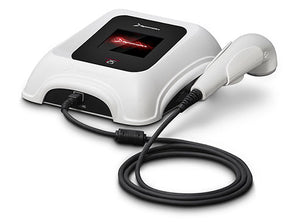 Dynatronics Dynatron 125 Portable Ultrasound
$1,465.00

$1,465.00

Save $395
---
Request a custom quote to receive the best pricing for specialty products and bulk quantity orders. Custom rehab equipment solutions created just for you!
---
The Dynatronics Dynatron 125 Portable Ultrasound (#D125B) includes one 5 cm (WSH05) soundhead.
Warranty: 2 Years.
The Dynatron 125 Portable Ultrasound offers 1, 2, and 3 MHz frequencies for the greatest flexibility in depth of treatment. Choose 1 MHz for deep treatments, 2 MHz for moderate depth, or 3 MHz for superficial depth.
The Dynatron 125 improves upon the previous model 125 Plus (#D125).
Dynatronics Dynatron 125 Portable Ultrasound Features:
Battery (not included) powered option allows the device to travel to any location.
Small and lightweight design makes it easy to carry.
Soundheads are engineered with SmartHead technology that stores calibration parameters directly inside each soundhead.
Most treatments can be set up in as few as three key presses.
Dynatronics Dynatron 125 Portable Ultrasound Specifications:
Shipping Weight:

 

10 lbs (4.54 kg).
Shipping Dimensions:

 

21" x 18" x 13" (53.34 cm x 45.72 cm x 33.02 cm).
FREE GROUND SHIPPING IN LOWER 48
Dynatronics Dynatron 125 Portable Ultrasound Literature:
Dynatronics General Line Rehabilitation Products Guide
---
Other Recommended Products
---