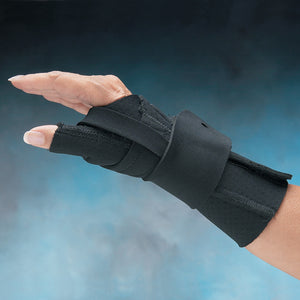 Comfort-Cool Wrist and Thumb CMC Restriction Splint
$37.95

$37.95
---
Request a custom quote to receive the best pricing for specialty products and bulk quantity orders. Custom rehab equipment solutions created just for you!
---
Provides direct support for the thumb CMC joint while allowing full finger function
The Comfort Cool® Wrist & Thumb CMC Restriction is made of thin, 1/16" (1.6mm) perforated neoprene with a terry cloth liner that helps keep skin cool and comfortable.
This longer wrap-around thumb splint supports the wrist for conditions such as tendinitis, arthritis, de Quervain's, joint instabilities and post-surgical repair of the wrist and thumb.
Reinforced stitching allows the splint to be trimmed below the thumb MP joint if desired.
Special pull-through wrist strap requires less hand manipulation, making it easy to adjust and fasten the splint.
Wide neoprene strap provides extra support and compression around the wrist.
Lined with anti-microbial terrycloth.
Not made with Natural Rubber Latex.
To size, measure palm circumference.
X-Large   9" to 10" (23 to 25cm)
---
Other Recommended Products
---