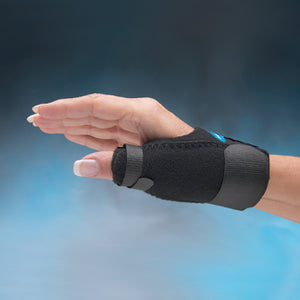 Comfort-Cool Thumb Spica Splint-Large/Extra Large
$17.95

$17.95
---
Request a custom quote to receive the best pricing for specialty products and bulk quantity orders. Custom rehab equipment solutions created just for you!
---
Universal support with moldable thermoplastic stay provides a customized fit.
Thin, 1/16" (1.6mm), perforated neoprene provides cool, lightweight support and compression. Neoprene can be trimmed and customized easily. Soft, terrycloth liner feels good against the skin.
Use the special thumb strap to stabilize IP extension or trim the thumb tip below the IP joint for thumb IP motion.
Three lengths offer varying amounts of support. Use the Short and Mid lengths to treat thumb CMC and MP arthritis, ligament injuries, MP fusion, tendinitis and joint fractures.
Use the Long length to treat de Quervain's, tenosynovitis, arthritis, wrist and thumb tendinitis, joint fractures and CMC joint arthroplasty.
Includes a 3/32" (2.4mm) Omega™ Max thermoplastic insert for custom support. Removable insert restricts movement of the wrist and thumb joints and can be trimmed. Pocket helps pad the stay for a comfortable feel against the skin.
To fit the thermoplastic insert, heat in warm water and mold, then place it into the inside pocket. Or, microwave the insert while it is in the splint, then mold on the patient directly where needed.
Fits either the left or right hand.
Short measures 5-1/2" to 6" (14 to 15cm) in length.
Mid measures 7" to 7-1/2" (17 to 19cm) in length.
Long measures 8-1/2" to 9" (21 to 23cm) in length.
 Large/Extra Large Wrist Circumference 6 1/2/" to 8"  (17cm-20cm)
---
Other Recommended Products
---