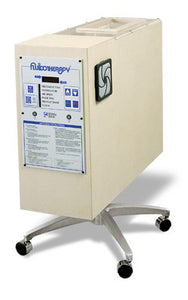 Chattanooga Fluidotherapy Single Extremity Unit
$5,499.00

$5,499.00

Save $1,461
---
Request a custom quote to receive the best pricing for specialty products and bulk quantity orders. Custom rehab equipment solutions created just for you!
---
Product Information
FLU110D - Single extremity unit for treating the hand, wrist, elbow, foot and ankle. Includes (30) Pounds of Cellex Dry Heat Media.
 Weighs 70 LBS without Dry Cellex Heat Media.
Variable adjustments:
Time, Temperature and Air Speed.
Modes of Operation:
Continuous and Pulsed.
Pulsed : Off to every 6 seconds. or ON/OFF
Treatment Time:
1-99 Minutes and Continuous.
Operating Time:
Dependant upon airspeed selected
88 Degrees F to 125 Degrees F
Optimal Performance:
115 Degrees to 118 degrees at 50% Airspeed.
Lift-Gate or Dock Delivery
---
Other Recommended Products
---