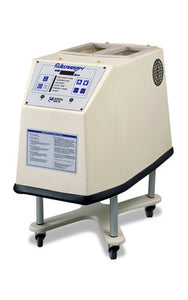 Chattanooga Fluidotherapy Double Extremity Unit
$6,899.00

$6,899.00

Save $1,913
---
Request a custom quote to receive the best pricing for specialty products and bulk quantity orders. Custom rehab equipment solutions created just for you!
---
Product Information
FLU115D - Double extremity unit for treating up to two hands or two feet independently or simultaneously. Includes (40) LB of Cellex Dry Heat Media.
 60 LB Without 40 LB Of Cellex Dry Heat Media.
Variable adjustments:
Time, Temperature and Air Speed.
Modes of Operation:
Continuous and Pulsed.
Pulsed : Off to every 6 seconds. or ON/OFF
Treatment Time:
1-99 Minutes and Continuous.
Operating Time:
Dependant upon airspeed selected
88 Degrees F to 125 Degrees F
Lift-Gate or Dock Delivery
---
Other Recommended Products
---