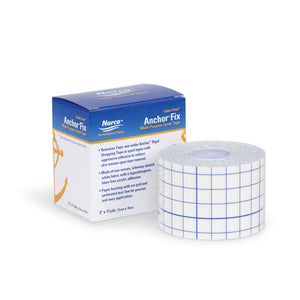 Anchor Fix Underwrap 2 in. x 11 yd.
$8.95

$8.95
---
Request a custom quote to receive the best pricing for specialty products and bulk quantity orders. Custom rehab equipment solutions created just for you!
---
Versatile underwrap provides gentle protection. Anchor Fix™ Underwrap Tape is a non-woven, hypoallergenic, white fabric underwrap that is used under rigid strapping tapes where the tape must stay in position under extreme stress and/or sweat. Use in conjunction with Anchor™ Rigid Strapping Tape for knee or shoulder taping techniques. The latex-free, acrylic adhesive in Anchor Fix™ is better tolerated by the skin and helps to alleviate skin trauma when regularly taping is done with Anchor™ Rigid Strapping Tape. Also used to adhere bandages or gauze against the skin. Used by athletes as a skin protector to prevent "turf-burns." Available in two widths 2" and 4". Rolls are 11 yd (10m) long. 
---
Other Recommended Products
---