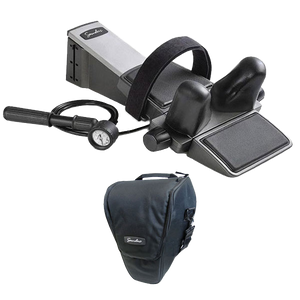 Chattanooga Saunders Cervical Hometrac
$429.00

$429.00

Save $215.35
---
Request a custom quote to receive the best pricing for specialty products and bulk quantity orders. Custom rehab equipment solutions created just for you!
---
Designed to provide safe and effective traction to the cervical region.
Patented pneumatic system ensures reliable force accuracy and leak-free performance.
This device directs traction forces toward the back of the head, thereby preventing compression of the TMJ.
Applies up to 50 lbs. (23kg) of traction without assistance. 
Self-adjusting neck wedges rotate through a 30-degree arc.
Patented pump design has a "click-in-place" mechanism for easy traction control.
The user retains total control of force at all times.
Angle of traction delivery may be adjusted from 15° to 25°, in 5° increments.
Gauge indicates traction in pounds and kilograms.
Fits users with extra small to larger size necks.
Includes deluxe carrying case and user guide.
FREE STANDARD SHIPPING, LOWER 48
Product Availability
Reserved for healthcare customers and approved resellers only.
Professionals Only or Providers Rx required for individuals
---
Other Recommended Products
---