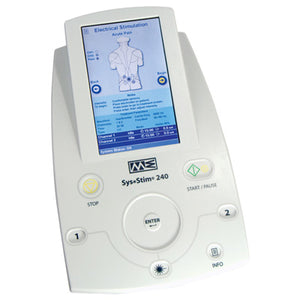 Mettler Sys*Stim 240
$4,037.50

$4,037.50

Save $712.50
---
Request a custom quote to receive the best pricing for specialty products and bulk quantity orders. Custom rehab equipment solutions created just for you!
---
 Contact TRS for Custom Pricing!
The Sys*Stim 240 neuromuscular stimulator has nine discrete waveforms: Interferential (4 pole), Premodulated (2 pole), Medium Frequency (Russian), Biphasic, High Volt Pulsed Galvanic, Microcurrent, TENS-Asymmetrical Biphasic, TENS-Symmetrical Biphasic and Galvanic (Continuous DC) waveforms. In addition the clinician can set on/off times, up and down ramps, pulse width and frequency along with frequency modulation for some of the waveforms.

There are numerous anatomical and waveform specific protocols complete with electrode placement guidance. Once a protocol is selected, the Sys*Stim 240 will go to the treatment page, electrodes can be placed on the patient and the intensity control can be adjusted to begin the treatment. Clinicians may also store their own treatment protocols for later use.

An optional battery pack may be purchased so that therapy can be taken on the road. To make this even easier, an optional carrying bag » made especially for the Sys*Stim 240 and its accessories is also available.

An optional mobile treatment cart » (model 73) has three shelves and can safely hold any Mettler Sonicator, Sys*Stim or Sonicator Plus unit(s) along with their accessories.

3 Year Warranty


Prescription required! You can buy this product only if you have a doctor's prescription or if you are a professional.
Contact TRS for Custom Quote
Free Ground Shipping in USA!
---
Other Recommended Products
---