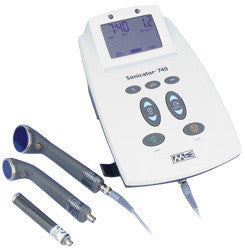 Mettler Sonicator 740x
$1,637.20

$1,637.20

Save $288.90
---
Request a custom quote to receive the best pricing for specialty products and bulk quantity orders. Custom rehab equipment solutions created just for you!
---
The 740x has all the features of the Sonicator 740 but comes standard with all three available applicators – a 5cm2 dual frequency applicator, a 10cm2 / 1 MHz applicator and a 1 cm2 / 3MHz applicator. All three applicators can be stored on the unit itself to keep them available at all times.
Weight: 3.75 pounds (1.7 kg.) without battery, 4.5 pounds (2.0 kg.) with battery
Dimensions: 13.5 in (L) x 9.5 in (W) x 7 in (H), 34 cm (L) x 24 cm (W) x 18 cm (H)
Warranty: 2 years, 1 year on applicators
Unit ships standard ground throughout USA for free!
Contact TRS for Custom Quote!
---
Other Recommended Products
---