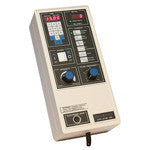 Mettler Sys*Stim 206
$1,403.60

$1,403.60

Save $295.40
---
Request a custom quote to receive the best pricing for specialty products and bulk quantity orders. Custom rehab equipment solutions created just for you!
---
The Sys*Stim 206 is a one-channel neuromuscular stimulator that features four different waveforms in a light-weight package. The narrow pulse is suited for TENS while the wide and AC pulses can be used for muscle stimulation. Direct Current can be used to stimulate denervated muscles. The Sys*Stim 206 is an ideal companion to the Sonicator 740 for combination therapy.
An
optional rugged padded tote bag for carrying »
the Sys*Stim206 or 226 along with its accessories complete with shoulder strap. Price is 74.88.
An optional
mobile treatment cart »
(model 73) has three shelves and can safely hold any Mettler Sonicator, Sys*Stim or Sonicator Plus unit(s) along with their accessories.
Weight: 5.6 pounds (2.5 kg.)
Dimensions: 4.3 in (H) x 6 in (D) x 13.4 in (L), 11 cm (H) x 15 cm (D) x 34 cm (L)
Warranty: 1 year
Contact TRS for Custom Quote, Free Ground Shipping in USA!
---
Other Recommended Products
---